The Playdium – Game Changing Jukebox from TouchTunes & Sound Leisure
Profit from Every Play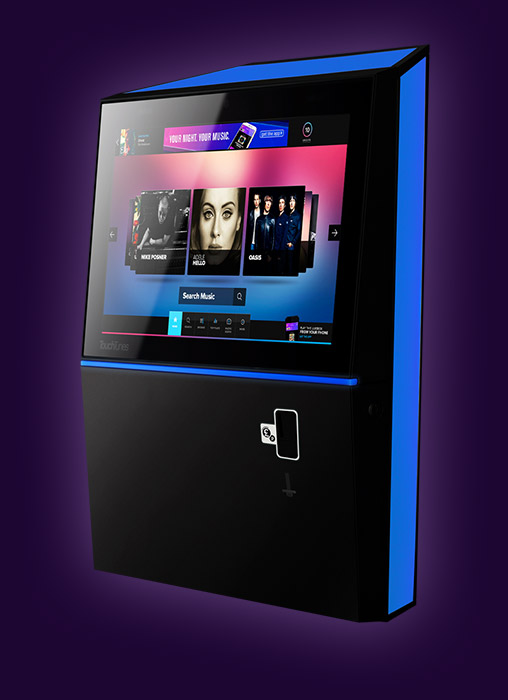 With a modern, sleek design and breakthrough user interface, the TouchTunes Playdium commands attention and transforms the customer experience in any venue. All of a sudden all other jukeboxes look a bit dated!
Contact us now to learn how you can use Playdium in your business.  We have various deals and payment plans to offer you. Including:
---
£14.50 per week repayment plan.  Pay for the jukebox over 3 years.  Start making a profit from day one.  Subject to credit approval
---
Pay for the jukebox upfront for just £1995. Or contact us for the latest deals and offers.
---
All Playdiums come with a 2 year warranty and are supported by Sound Leisure in Leeds.
No Fixed Music Fee
Playdium is the first digital jukebox in the UK without a fixed music fee.  Music fees are calculated on what the jukebox earns.  This way the Playdium can be a risk free investment for your business.
A Custom Music Experience
Playdium learns from the music most played in a venue and adapts over time to highlight the songs, artists and search results that are most relevant. In addition, music profiles and advanced filters mean that the right music experience can be created for each venue.
PhotoBooth Adds a New Social Dimension
Integrated PhotoBooth generates excitement and brings people together to capture the moment, driving more engagement and adding a new dimension to playing the jukebox.
Focus on the Music
With music updated weekly online and with the Official Singles Chart.
Advanced Manufacturing and Diagnostics
Unique, integrated, modular design increases reliability and simplifies service.
The UK's Top Performing Jukebox App
Customers use their phones to select and pay for songs using the app.  In the UK we soon expect app income to be over 20% of all jukebox revenue.
Contact Toby or James at Soundnet about how to get Playdium on site and working for you now on 020 7644 8888 or email sales@soundnet.net.